. >> AS SPRING APPROACHES I START TO THINK ABOUT BUYING LOCALLY FROM FARMERS. THAT'S A SUBJECT WE EXPLORE NEXT ON NEWS NIGHT. THAT'S COMING UP ON NEWS NIGHT. I'M GLAD YOU'RE HERE WITH US. I'M JODIE MILLER. AT THIS TIME OF YEAR I GET ANTSY FOR SPRING. I WANT TO BE IN THE GARDEN AND GROWING THINGS. SO THIS IS A GOOD OPPORTUNITY TO EXAMINE PERHAPS A GROWING, PUN INTENDED, PHENOMENON. NOT ONLY REGIONALLY BUT AROUND THE COUNTRY. IT'S A DIRECT CONNECTION BETWEEN LOCAL FARMERS AND CONSUMERS. AND TO THAT END WE WANTED TO WELCOME SOME GUESTS HERE WHO COULD TALK TO YOU ABOUT CONSUMER SUPPORTED AGRICULTURE, CSA'S OR FARMERS MARKETS. SO WE WELCOME BETH NORTH. SHE'S BEEN A FARMER FOR YEARS. SHE WAS AND SHE IS NOW FARMERS MARKET MANAGER FOR COUNTRY SIDE CONSERVANCY. AND CHRIS NORMAN. EXECUTIVE DIRECTOR OF CROWN POINT ECOLOGY CENTER WHICH IS THE, CORRECT ME IF I'M WRONG, ONE OF THE OLDEST CONTINUING CSA'S IN NORTHEAST OHIO. >> THAT'S RIGHT. >> WELCOME BOTH OF YOU. I'M LOOKING VERY FORWARD TO THIS PROGRAM.
A LOT OF INFORMATION THAT WE CAN GIVE TO OUR VIEWERS. BUT I WANT TO START WITH MAYBE THE KIND OF CHANGES THAT WE'RE SEEING IN TERMS OF EATING PATTERNS AND BUYING LOCALLY. AND HOW DID THE WHOLE BUYING LOCAL AND SUPPORTING LOCAL FARMERS COME ABOUT? >> WELL, I THINK OVER RECENT YEARS WE'VE SEEN, YOU KNOW, A BIG CHANGE IN OUR DIET AND OUR EATING PATTERNS. WE HAD, YOU KNOW, TRADITIONALLY LIVED SEASONALLY, AND ATE SEASONALLY, AND THINGS CLOSE TO THE SOURCE. BUT OVER THE PAST 50 OR SO YEARS WE GOT AWAY FROM THAT. STARTED PURCHASING MORE PROCESSED FOODS AND THAT KIND OF THING. AND I THINK WE'VE STARTED TO SEE THE HEALTH RAMIFICATIONS OF THAT. AND YOU KNOW BECAUSE WE'RE BUYING MORE PROCESSED FOODS. WE STOPPED THINKING ABOUT WHERE OUR FOOD WAS COMING FROM. HOW THE WEATHER PATTERNS ARE EFFECTING THE PRODUCTION. SO I THINK THIS WHOLE TREND OF PURCHASING LOCALLY IS TRYING TO GET PEOPLE MORE IN TOUCH WITH WHERE THEIR FOOD ACTUALLY DOES COME FROM.
IT COMES FROM FARMERS. IT COMES FROM THE SOIL. AND HELPING TO BUILD THOSE RELATIONSHIPS BACK UP. YOU KNOW IT JUST HELPS CREATE HEALTHIER COMMUNITIES TO KNOW WHO'S GROWING YOUR FOOD. AND HOW IT IS BEING GROWN. SO WE'RE SEEING, LIKE YOU SAID, NATIONAL AND REGIONAL SUPPORT, A GROUND SWELL OF SUPPORT FOR THIS KIND OF MOVEMENT. >> BUYING LOCAL. >> GROWING LOCALLY, LEARNING ABOUT IT. I MEAN I THINK TO BETH'S POINT A LOT OF WHAT WE'RE EXPERIENCING IN LOCAL PURCHASING, SPECIFICALLY ON FOOD IS REFLECTED IN PEOPLE AWARENESS AS FAR AS LAND USE ISSUES. NORTHEAST OHIO HAS REALLY SPRAWLED OUT. LAND USE INCREASED AS FAR AS NONFARM USE. SO WE'RE BUILDING ON PRIME SOILS ETCETERA. SO FARMS AND FARM COMMUNITIES HAVE REALLY BEEN UNDER SIEGE AND I THINK FOR THOSE OF US THAT ARE NOT CONNECTED TO THE FARM, YOU MAYBE GO BACK A GENERATION OR TWO AND THERE'S — THE STORIES ARE STILL THERE.
GOING TO GRANDPA'S FARM. SO BUYING LOCAL IS A WAY FOR PEOPLE TO GET BACK TO THEIR ROOTS AND ALSO SUPPORT SUSTAINABILITY OF LAND USE AND THEN THE PERSONAL HEALTH. BECAUSE, WHETHER IT'S SPINACH, OR YOU'VE GOT EGGS, ALL KINDS OF FOODS SCARES THAT HAVE HAPPENED. FARMERS MARKET, CSA'S YOU KNOW WHERE THE FOOD COMES FROM. YOU MEET THE GROWER. THERE'S THAT CONNECTION. SO THERE'S A WHOLE APPROACH TO PERSONAL WELL BEING AND COMMUNITY WELL BEING. AND IT'S PRETTY EXCITING REALLY. >> AND THAT'S WHAT I WANT TO TALK ABOUT IS THAT DIRECT CONNECTION. BECAUSE AS I UNDERSTAND IT THERE'S TWO WAYS OF BUYING LOCALLY. THAT WOULD BE THE CSA'S THE COMMUNITY SUPPORTED AGRICULTURE. OR THROUGH FARMERS MARKETS. SO LET'S START WITH CSA'S DESCRIBE FOR OUR VIEWERS WHAT'S A CSA? >> SURE, WELL FOR SURE.
COMMUNITY SUPPORT AGRICULTURE. IT'S A DIRECT MARKETING MODEL. IT'S A WAY FOR PEOPLE TO SUPPORT A LOCAL FARM. THEY BUY A SHARE OF THE HARVEST AT THE BEGINNING OF THE SEASON. SO RIGHT NOW SUBSCRIPTIONS ARE GOING OUT. PEOPLE ARE SENDING IN THEIR DOLLARS TO BUY A SHARE OF THE UPCOMING HARVEST. THE MAIN SHARE IS JUNE THROUGH OCTOBER. THE FARMERS GET THE MONEY UP FRONT AT THE BEGINNING OF THE SEASON IN THE WINTER. THEY USE THE MONEY TO PURCHASE SEED, FERTILIZER, EQUIPMENT, HIRE STAFF, AND PLANNING.
THE SHAREHOLDERS WHAT THEY GET IS FROM JUNE TO OCTOBER EVERY WEEK THEY COME TO THE FARM AND THEY GET A SHARE OF WHAT'S IN SEASON. SO IF THE TOMATOES DO WELL YOU GHETTO MAY GET, TOMATOES IN YOUR SHARE. SQUASH, FOR US, LAST YEAR NOT SO GOOD. A LOT OF TIMES FARMS WILL WORK TOGETHER SO THAT YOUR SHARE CAN REPRESENT NOT JUST FROM ONE FARM BUT A COUPLE FARMS. IF THE ZUCCHINI DOESN'T DO WELL IN ONE PLACE YOU GET IT FROM ANOTHER. BUT THE VALUE, THE FARMER GETS THE MONEY AT THE BEGINNING OF THE SEASON BEFORE THE DRAUGHT BEFORE THE FLOOD. >> TO BUY THE SEED. >> ETCETERA. BUT FOR THE FAMILY IF THEY BUY THE SAME AMOUNT OF PRODUCE AT THE GROCERY STORE OR AT THE FARMERS MARKET AT TIMES THEY WILL PAY A LITTLE MORE. SO FOR EXAMPLE, FOR US, TIPLY 500-DOLLAR SHARE, LAST YEAR WE TRACK EVERYTHING. IF THEY HAD GONE TO THE FARMERS MARKET THEY WOULD HAVE PAID $700. >> FOR WHAT THEY GOT. >> IN GENERAL. BUT WHETHER IT'S CSA OR FARMERS MARKETS YOU CAN'T GO WRONG. YOU KNOW WHERE YOUR FOOD COMES FROM.
SO WE ENCOURAGE PEOPLE. PLEASE CONNECT. WHETHER IT'S CSA OR FARMERS MARKETS OR ANY WAY POSSIBLE. >> THE NICE THING ABOUT CSA IS YOU'RE BUILDING A RELATIONSHIP WITH A FARMER AND YOU'RE INVESTING IN THAT FARM. AND YOUR SHARE COMES IN THE FORM OF FOOD OPPOSED TO INCOME GROWTH BUT IT'S A REALLY GREAT WAY TO FEEL CONNECTED TO A PLACE. TO LEARN YOU KNOW WHAT'S HAPPENING WITH THAT FARM. WHAT ARE THE CHALLENGES THAT FARM IS FACING? YOU KNOW LAST YEAR WE HAD, WELL THE PAST TWO YEARS, WE JUST HAD CRAZY WEATHER PATTERNS. YOU KNOW WE WERE VERY, VERY DRY FOR THE EARLY PORTION OF THE SEASON LAST YEAR. AND THEN WE FINALLY GOT SOME RAIN AND SO THINGS SEEMED TO EQUAL OUT. BUT THE YEAR BEFORE THAT IT WAS JUST SO YET THAT FARMERS COULDN'T GET INTO THEIR FIELD. SO I THINK BUILDING THOSE DIRECT RELATIONSHIPS, WHETHER IT'S THROUGH CSA'S, OR SHOPPING IN A FARMERS MARKET YOU SEE THAT FIRSTHAND AND HOW THAT AFFECTS OUR FOOD PRODUCTION.
AND IF I'M NOT MISTAKEN, AREN'T THERE LIKE TWO DIFFERENT KINDS OF CSA'S WHERE YOU CAN HAVE A SUBSCRIPTION OR A SHAREHOLDER? IS THERE A DIFFERENCE THERE? >> WELL, NOT REALLY. THERE ARE ALL KINDS OF DIFFERENT CSA MODELS AND THE TRADITIONAL CSA MODEL IS ONE FARMER AND ONE GROUP OF CONSUMERS WHERE THOSE CUSTOMERS, YOU KNOW SUPPORT THAT INDIVIDUAL FARM. THE FARMER KIND OF DETERMINES WHAT GOES INTO THE SHARE. BUT THERE ARE ALL KINDS OF DIFFERENT MODELS ON CSA'S IF YOU WILL. WHERE IT'S A COOPERATIVE OF GROWERS THAT ARE ABLE TO REACH A LARGER NUMBER OF CUSTOMERS OR JUST A SMALL PARTNERSHIP BETWEEN A COUPLE FARMS LIKE CHRIS WAS MENTIONING.
THERE ARE ALSO NOT REALLY CSA'S BUT SIMILAR LIKE LOCAL FOOD DISTRIBUTION MODELS THAT ARE, YOU'RE STILL PAYING WEEKLY OR PAYING A FLAT FEE UP FRONT, BUT YOU'RE GETTING FROM MULTIPLE PLACES AND NOT JUST FARMERS BUT ALSO LOCAL FOOD PRODUCERS. >> IT'S TERRIFIC BECAUSE THE RECORDKEEPING FOR THE CSA, YOU KNOW, AND ALSO THE PUBLIC RELATIONS IF YOU WILL IS ANOTHER ART. SO SOMEBODY WHO CAN PARTICIPATE IN A COOPERATIVE I THINK ABOUT FAMILY FARMS FOR EXAMPLE. THAT'S GREAT BECAUSE THOSE FARMERS CAN DO WHAT THEY DO WELL. THEY CAN SHARE THE ADMINISTRATIVE RESPONSIBILITIES. AND YET THE FAMILIES, THE LOCAL FAMILIES ARE SUPPORTING LOCAL FARMERS. THEY'RE GETTING FRESH FOOD. IT CAN BE VEGETABLES IN OUR CASE. IT CAN ALSO HAVE CHEESE, EGGS, YOU CAN HAVE MEAT. CSA'S. THERE'S A WHOLE VARIETY. IT'S JUST LIKE ANYTHING. VARIETY IS THE SPICE OF LIFE.
WELL YOU CAN FIND THAT IN CSA'S. >> I DO WANT YOU TO HOLD THAT THOUGHT. WHAT WE'RE GOING TO DO IS WE'RE GOING TO TAKE THIS DISCUSSION OVER TO NEWS NIGHT.NET. THAT NEWS NIGHT.NET AND CONTINUE TALKING A LITTLE BIT MORE ABOUT CSA'S. >> FOR MORE NEWS NIGHT CONTENT INCLUDING EXTENDED DISCUSSIONS FULL INTERVIEWS AND A CHANCE TO SPEAK YOUR MIND ABOUT THE ISSUES JOIN US ONLINE AT NEWS NIGHT.NET. >> WE ARE CONTINUING OUR DISCUSSION ABOUT BUYING LOCAL AND THE DIRECT CONNECTION BETWEEN A FARMER AND THE CONSUMER. AND WHAT WE'RE GOING TO DO NOW IS TALK ABOUT FARMERS MARKETS.
SO IT MIGHT BE SELF EVIDENT BUT TELL ME THE DIFFERENCE BETWEEN A CSA AND A FARMERS MARKET. >> A CSA YOU'RE JOINING AND BECOMING A MEMBER OF THAT FARM ESSENTIALLY. SO YOU'RE PAYING YOUR MONEY UP FRONT AND THEN YOU JUST SHOW UP EVERY WEEK AT YOUR DESIGNATED PICK UP SPACE TO PICK UP YOUR PRODUCE. FARMERS MARKETS IT'S MUCH MORE OF A SHOPPING EXPERIENCE. YOU KNOW, YOU GO, WE WORK WITH OVER 60 INDEPENDENT BUSINESS OWNERS, FARMERS, FOOD PRODUCERS, CHEESE MAKERS, POULTRY FOLKS. PEOPLE WHO RAISE POULTRY AND MEATS AND THAT KIND OF THING. SO YOU'RE SHOPPING AT INDIVIDUAL BUSINESSES. WE'LL COME AT A DESIGNATED TIME AND YOU CHOOSE WHAT IT IS YOU WANT TO PURCHASE THERE. >> WHAT ARE THE KIND OF FARMERS MARKETS AVAILABLE NOW TO THE COUNTRY SIDE CONSERVANCY. >> WE MANAGE THREE MARKETS. WE HAVE RIGHT NOW WE'RE IN THE MIDST OF OUR WINTER MARKET SEASON. WE HAVE ABOUT GO MARKETS EVERY MONTH. AND WE ARE LOCATED AT OLD TRAIL SCHOOL. BUT WE DO HAVE FARMERS WHO ARE EXTENDING THEIR SEASON WITH HIGH TUNNELS AND THAT KIND OF THING. SO WE DO HAVE FRESH GREENS.
>> EXPLAIN HIGH TUNNELS. >> THEY ARE BASICALLY JUST A STRUCTURE THAT IS, YOU KNOW, METAL WITH A SHEET OF PLASTIC OVER TOP THAT CREATE A LITTLE PROTECTED ENVIRONMENT FOR CROPS TO GROW IN. SO FOLKS CAN GROW THINGS LIKE LETTUCE, AND SPINACH, AND RADISHES, AND OTHER KINDS OF GREENS EXTEND THEIR SEASON. WE'RE IN THE MIDST OF WINTER FARMERS MARKET NOW IN DOORS UNTIL THE END OF APRIL. IN MAY WE MOVE OUTDOORS WE HAVE TWO SUMMERTIME FARMERS MARKETS. ONE AT HOW MEADOW. AND THAT'S OUR LARGER MARKET. WE HAVE, WE AVERAGE ABOUT 50 VENDORS A WEEK AT THAT MARKET. AND THEN WE ALSO HAVE A MARKET IN AKRON IN HIGHLAND SQUARE. AND WE HAVE ABOUT 20 TO 25 VENDORS THERE. AND IT'S A GREAT NEIGHBORHOOD. IT'S SUCH A WALKABLE NEIGHBORHOOD. AND IT'S A LOT OF FUN TO BE DOWN THERE. >> IS THE WINTER MARKET SATURDAY. >> IT IS SATURDAY.
>> AND SO IS HOW MEADOW. >> AND THE HIGHLAND SQUARE MARKET IS ON THURSDAY EVENINGS FROM 4:00 TO 7:00. >> AND THE VENDORS THAT YOU GET FOR THE COUNTRY SIDE CONSERVANCY FARMERS MARKETS ARE NOT JUST FARMERS IN THE KOYOGA VALLEY. >> WE HAVE FARMS IN THE NATIONAL PARK BUT AS MUCH AS WE LOVE THOSE FARMERS THAT WOULDN'T BE MUCH OF A MARKET WITH ELEVEN VENDORS SO WE GO THROUGHOUT NORTHEAST OHIO AND SEEK WHAT ARE OUR CUSTOMERS LOOKING FOR AND YOU KNOW I LOVE TO EAT THIS WAY SO I THINK WHAT CAN'T I GET THAT I I WANT TO HAVE IN MY PANTRY OR I WANT TO HAVE IN MY FRIDGE THAT I WANT TO COOK WITH.
SO THERE'S A LOT OF PRODUCE. AND THAT'S, YOU KNOW, THE REAL BACKER RIGHT THERE. IT'S IMPORTANT TO HAVE. BUT THEN WE ALSO HAVE, LIKE I SAID POULTRY, WE HAVE PORK, WE HAVE BEEF, WE HAVE BISON, CHEESE, SEVERAL DIFFERENT CHEESES. WE HAVE FRESH PASTA. IT'S PRETTY MUCH EVERYTHING YOU WOULD WANT TO EAT. WE HAVE A LOCAL GROWER. SOLIDIFIED ORGANIC GROWER THAT'S DOING OATS ROLLED OATS AND BARLEY AND FLOUR, CORNMEAL, SO YOU CAN GET PRETTY MUCH ANYTHING YOU NEED. WE EVEN HAVE LOCAL GROWERS GROWING GINGER. >> ISN'T THAT GREAT. BUT NOT TO JUMP AHEAD BUT I KNOW THAT BETH HAS DONE A FANTASTIC JOB HELPING FARMERS COME TO MARKET. GET READY FOR MARKET. PREPARE THEIR STANDS. CONTINUE TO IMPROVE. AND ALSO THE ACCESS. SO IT'S NOT JUST HELPING NEW FARMERS COME INTO THE MARKETPLACE AND IMPROVE THEIR SERVICE BUT THEN HELPING OTHER MEMBERS OF THE COMMUNITY, OTHER FOLKS, I THINK ABOUT THE EBT ACCESS. A PIONEER RIGHT HERE IN THE AKRON AREA ON HELPING PEOPLE WHO OTHERWISE WOULDN'T HAVE ACCESS TO USE THEIR SNAP CARDS, THE OLD FOOD STAMP. HELP FARMERS ENGAGE IN SOCIAL JUSTICE.
A REAL PIONEER RIGHT HERE. WE'RE PROUD OF IT. >> HOW MANY PEOPLE MIGHT YOU GET ON ANY GIVEN SATURDAY AT HOW MEADOW. >> 1100 PEOPLE A WEEK AT HOW MEADOW. >> SO IT'S PROFITABLE TO BE A FARMER AND SET UP AT FARMERS MARKETS. >> WHEN WE FIRST STARTED IN 2004 WE DIDN'T START TILL JUNE AND NOW WE ARE GOING AROUND. WE HAVE FARMERS EXTENDING THEIR SEASON LONG ENOUGH THAT WE HAVE SOME FRESH PRODUCE ALL YEAR ROUND WHICH IS PRETTY FABULOUS.
YOU HAVE TO MODERATE EXPECTATIONS. THIS IS NORTHEAST OHIO. LAST WINTER WE DIDN'T HAVE A WINTER. SO WE HAD PEOPLE PULLING THINGS IN FROM THE FIELDS LIKE CABBAGES ALMOST ALL WINTER LONG. THIS YEAR NOT THE CASE. WE'VE HAD VERY DEEP COLD SNAP SO THE PRODUCE IS DEFINITELY BEING AFFECTED MORE THIS YEAR. BUT WE STILL HAVE IT. >> AND FARMERS MARKETS ARE A GROWING PHENOMENON THROUGHOUT THE STATE ARE THEY NOT. >> THEY ARE. >> WHAT ARE SOME OF THE BEST PRACTICES FOR A FARMERS MARKET. >> SOME OF THE BEST PRACTICES ARE TO BE PRODUCERS ONLY. THAT'S WHAT WE ARE AT COUNTRY SIDE. WHAT PRODUCERS ONLY MEANS IS THAT OUR FARMERS AND OUR FOOD PRODUCERS ARE MAKING THE FOOD THEMSELVES. THEY ARE NOT BUYING FOOD FROM INDIANA OR MICHIGAN OR WHEREVER AND RE SELLING AT THE MARKET. THEY ARE GROWERS. AND OUR PASTA MAKERS, THEY'RE THE PEOPLE MAKING THE PASTA AND WE ENCOURAGE THEM TO PURCHASE FLOUR FROM LOCAL FARMERS AND THAT KIND OF THING. SO IT'S A STRONG EMPHASIS ON PRODUCERS ONLY.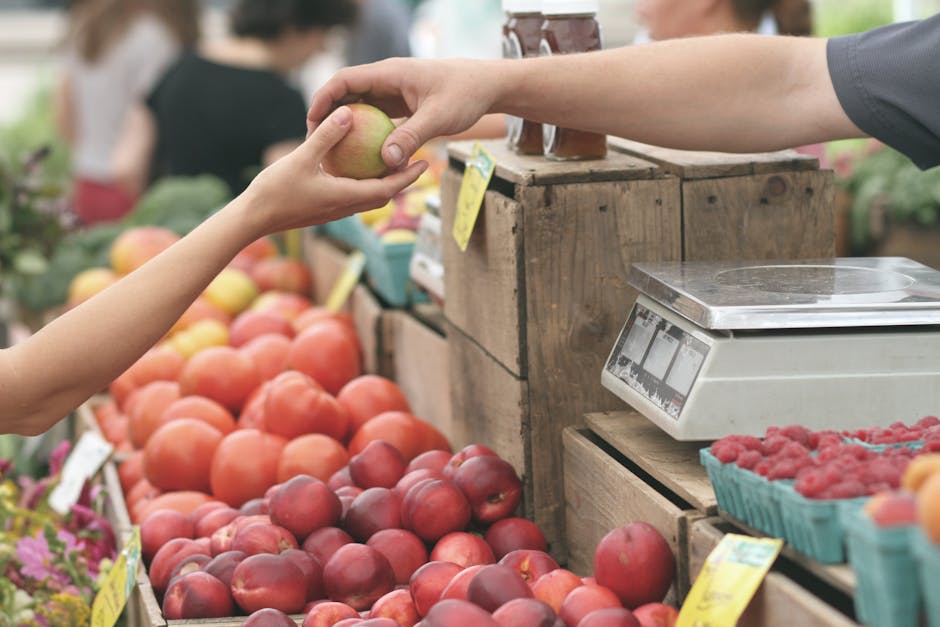 EDUCATING CUSTOMER BASE. SHOWING THEM HOW TO COOK WITH SOME OF THE MORE UNUSUAL ITEMS YOU'LL FIND. WE DO COOKING DEMONSTRATIONS ALL THE TIME. TEACH PEOPLE HOW TO PRESERVE THINGS AND MAKING SURE WE'RE ACCESSIBLE TO EVERYONE IN THE COMMUNITY. SO WE INSTITUTED OUR FOOD ASSISTANCE PROGRAM BACK IN 2008 I BELIEVE WHERE WE BEGAN TO BE ABLE TO ACCEPT THE SNAP CARD AT THE MARKETS AND SO YOU KNOW EVERYONE IN OUR COMMUNITY CAN PARTICIPATE. IT'S NOT, YOU KNOW, I KNOW FARMERS MARKETS SOMETIMES HAVE THIS STIGMA OF BEING ELITIST BUT THAT'S NOT REALLY THE CASE. I MEAN IT'S REALLY ACCESSIBLE TO ALL. >> WHAT ABOUT, AND I WANTED TO ASK ABOUT THE DIFFERENCE BETWEEN NATURAL AND ORGANIC. >> OKAY. >> HOW DOES THAT FIGURE INTO A CSA OR A FARMERS MARKET. >> REGARDLESS OF THE FARM, WHETHER IT'S A FARMERS MARKET OR YOUR WHOLESALING OR YOU'RE WITH A CSA, ORGANIC HAS A CERTIFICATION.
THERE'S A NATIONAL CERTIFICATION. THERE'S A THIRD PARTY THAT INSPECTS THE ORGANIC FARM EVERY YEAR. THERE'S AN AUDIT THAT HAPPENS. ALL THE INPUTS THE RECORDKEEPING ETCETERA. ALL NATURAL, THERE'S NO SUCH THING. NOW, IF YOU'RE A SMALL PRODUCER, YOU CAN BE ORGANIC WITHOUT — AND IT'S A VERY SMALL PRODUCER. YOU CAN BE ORGANIC WITHOUT THAT INSPECTION. BUT THAT — THE REASON FOR THE INSPECTION, AND THERE'S A NATIONAL STANDARD IS TO HELP THE GROWERS THAT ARE FOLLOWING THAT PROCESS. THERE'S BEEN HISTORIC VALUE ADDED.
YOU KNOW SO I CAN GET TYPICALLY MORE FOR ORGANIC FRUIT AND VEGETABLES THAN THEY CAN FOR NONORGANIC BUT I WOULD SAY CROWN POINT IS CERTIFIED ORGANIC AND PROUD OF IT. I WOULD ENCOURAGE PEOPLE TO BUY LOCAL REGARDLESS OF ORGANIC OR NOT. PLEASE WEIGH IN. >> YOU DON'T HAVE TO CHOOSE. YOU CAN GET LOCAL AND ORGANIC. SO I THINK THAT'S KIND OF A FALSE DICHOTOMY THERE. WE CAN BUY LOCAL AND ORGANIC AND LIKE CHRIS SAID, THERE IS NO STANDARD FOR NATURAL.
ANYBODY CAN SLAP THAT LABEL ON THEIR PRODUCT. >> I WANT TO CONTINUE THIS DISCUSSION ABOUT NATURAL AND ORGANIC AND FERTILIZERS AND PESTICIDES AND THAT KIND OF STUFF. AND THAT WILL BE ON NEWS NIGHT.NET. >> ON NEWS NIGHT.NET WE COVER A BROADER RANGE OF TOPICS THAN WE CAN ON THE AIR IN 27 MINUTES. JOIN US ONLINE AT NEWS NIGHT.NET. >> WE ARE BACK FOR OUR FINAL SEGMENT OF NEWS NIGHT. AND REGARDLESS OF WHETHER YOU GET YOUR FOOD AND YOUR FRESH LOCALLY GROWN PRODUCE FROM A CSA OR A FARMERS MARKET THERE ARE A COUPLE ASPECTS OF THIS WHOLE PROCESS THAT BOTH ARE INVOLVED WITH. AND WHAT I'D LIKE TO ASK YOU BOTH ABOUT IS MAYBE SOME OF THE INTANGIBLES.
ABOUT BUYING FROM A CSA OR BUYING FROM A FARMERS MARKET. BUT, YOU KNOW, OBVIOUSLY YOU GET GOOD PRODUCE AND GOOD FOOD AND IT'S FRESH. BUT WHAT ARE SOME OF THE OTHER INTANGIBLES. BECAUSE IT'S A WONDERFUL FEELING. AND I WANT PEOPLE TO GET EXCITED ABOUT IT. >> DEFINITELY. I WOULD SAY FOR THOSE THAT ARE COMING TO THE FARM TO PICK UP FROM THE CSA FOR EXAMPLE. THERE'S THAT INTANGIBLE OF GOING AND SEEING WHERE YOUR FOOD IS GROWN. OF HAVING THAT STORY AS YOU TALKED ABOUT BEFORE.
THE STORY WITH THE PRODUCE THAT WAS GROWN. SEEING HOW THINGS ARE GOING IN THE CROP. THERE'S TYPICALLY A NEWS LETTER ASSOCIATED WITH THE CSA. WE SEND OURS OUT EVERY WEEK WITH RECIPES. YOU HAVE THE BACKGROUND OF WHAT'S HAPPENING WITH THE FOOD. BUT THE BEST PART IS THE EATING. BEING ABLE TO SHARE. YOU KNOW. AND FRESH IS BETTER FOR YOU. SO YOU KNOW, THAT CONNECTION, THAT'S SOME INTANGIBLES I WOULD SAY OF THE STORY, ETCETERA THAT PEOPLE HAVE. >> AND I THINK REALLY WHEN YOU SHOP AT THE FARMERS MARKET IT'S NOT LIKE CHECKING OUT AT THE GROCERY STORE. IT'S A TOTAL EXPERIENCE. YOU KNOW YOU'RE GETTING TO KNOW THOSE FARMERS. YOU'RE SWAPPING RECIPES WITH THE FARMERS. AND WHO KNOWS BETTER HOW TO FIX IT RIGHT, YOU KNOW? THAN THE FARMERS. AND SO SHARING THOSE STORIES. BEING OUT AND BUMPING INTO YOUR NEIGHBORS. YOU KNOW SITTING THERE IN OUR BEAUTIFUL KIAHOGA VALLEY.
HAVING A FRESH CROISSANT AND LOCALLY GROWN COFFEE. IT'S FANTASTIC. SO IT'S A LOT OF FUN. SHOPPING CAN BE FUN I GUESS. >> RELATIONSHIPS AND STUFF. SO ONE OF THINGS I WANT TO TALK ABOUT IS I READ ABOUT SHARED RISK. HOW DOES THAT IMPACT THE PEOPLE THAT ARE PARTICIPATING IN THIS. SHARED RISK BEING IN THE BROCCOLI'S GOOD THIS YEAR WE SHARE IN THAT. >> THERE'S AN ABUNDANCE. FOR US WE'VE SEEN IN THE LAST THREE YEARS WE'VE SEEN TWO DRAUGHTS. IN THE MIDDLE OF THE YEAR 2011 IT WAS A RECORD RAINFALL AND FLOODING THAT HAPPENED. WELL THERE'S THE SHARED RISK. YOU KNOW SOME YEARS, CERTAIN CROPS AREN'T GOING TO COME IN. WHETHER IT'S BECAUSE OF AN EARLY FROST OR A DRAUGHT OR FLOOD. YOU KNOW THERE'S GOING TO BE A SHARED RISK THERE. FOR THE CSA'S, AS I SAY, THE FARMERS ARE GETTING PAID IN THE BEGINNING OF THE SEASON. WE TAKE IT VERY SERIOUSLY. SO WE DO EVERYTHING WE CAN TO ENSURE THAT THERE'S GOING TO BE A SHARED BENEFIT FOR PEOPLE.
BUT I THINK WHEN YOU SAY SHARED RISK THAT'S TYPICALLY WHAT WE'RE REFERRING TO. >> WHAT ABOUT THE USE OF VOLUNTEERS FOR BOTH OF YOUR ORGANIZATIONS. DO FARMERS MARKETS RELY ON VOLUNTEERS I KNOW CROWN POINT RELIES ON VOLUNTEERS. >> WE HAVE SOME SPECTACULAR VOLUNTEERS AT THE FARMERS MARKET. I MEAN PEOPLE WHO SHOW UP, YOU KNOW, WHEN IT'S STILL DARK AT 6:30 IN THE MORNING TO HELP US PUT UP TENTS AND WE HAVE REALLY FANTASTIC PEOPLE WHO COME OUT. AND IT'S A LOT OF FUN. YOU KNOW. AND WE ARE ETERNALLY GRATEFUL FOR OUR VOLUNTEERS THAT HELP US DO THAT. WE COULDN'T DO IT WITHOUT THEM. >> THEY MAKE IT WORK. SAME WITH CROWN POINT OBVIOUSLY. >> I DON'T REFER TO SHAREHOLDERS AS VOLUNTEERS. THERE'S A WORK REQUIREMENT STANDARD SHARE. YOU HAVE ONE THREE HOUR SHIFT THAT YOU PUT IN. BUT IT'S PROBABLY THE BEST THREE HOURS YOU CAN PUT IN. BECAUSE YOU'RE OUT THERE HARVESTING FOOD. VISIT WITH THE OTHER SHAREHOLDERS. IN THE BARNES, WASHING PRODUCE. THE MUSIC'S PLAYING. AND AGAIN, IT'S VERY REAL. I MEANS THIS WHERE LIFE BEGINS. IT REALLY CONTINUES.
IN THAT SHARED EXPERIENCE. >> WHAT ABOUT EXTRA FOOD? I MEAN OBVIOUSLY, YOU KNOW IF YOU HAVE A REALLY GOOD HARVEST WHAT DO YOU DO WITH THE EXTRA FOOD? >> YOU HAVE A BUNCH OF PROGRAMS. AS FAR AS CANNING AND DRYING AND FREEZING TOO, RIGHT? >> WE DO TEACH PEOPLE HOW TO CAN AND FREEZE AND DRY. SO WE'RE ENCOURAGING CUSTOMERS TO BUY IN BULLING FROM THE FARMERS SO HOPEFULLY THEY'RE NOT GOING HOME WITH A TRUCK LOAD OF STUFF.
SO WE HAVE WORKED WITH LOCAL FOOD PANTRIES AND FARMERS HAVE DONATED TO THOSE IN THE PAST AND WE HELPED COORDINATE THAT A LITTLE IT BE BUT CROWN POINT HAS THE BEST PROGRAM AROUND. >> FROM THE BEGINNING AS FAR AS — IT'S THAT EXTRA FOOD. WE GROW IT TO GIVE AWAY. >> SPECIFICALLY TO BE DONATED TO. >> A COUPLE AREA AGENCIES. ONE IS THAT FOOD PANTRY THE AKRON REGIONAL FOOD BANK. THE SISTERS BEGAN THE CROWN POINT WITH THE INTENT OF SHARING THIS SPACE.
AND SO WHEN THEY STARTED GROWING PRODUCE IN MASS IN 1997 WE DONATED 4,000 POUNDS OF ORGANIC PRODUCE TO THE AKRON CANTON REGIONAL FOOD BANK. WE CONTINUED THEN WITH THE CSA IN 98 BUT TYPICALLY EVERY YEAR WE'RE DONATED 15,000-POUNDS OR SO TO HELP FEED THOSE IN NEED. WE COUPLE THAT WITH EDUCATION PROGRAMS. NOW WE'RE LOOKING AT WAYS TO EMPOWER PEOPLE TO LEARN TO COOK THAT FOOD. ESTABLISH GARDENS ON SITE. SO IT'S NOT JUST GIVING FOOD AWAY. WE'RE LOOKING TO BRIDGE THAT SO THAT WE CAN BUILD COMMUNITY AND SELF RELIANCE. BUT THAT'S, I THINK WE'RE THE ONLY FARM, ORGANIC FARM GROWING FOOD TO GIVE AWAY. AND WE'RE PROUD OF IT. >> YES, AND WHEN YOU SAID SISTERS YOU MEANT THE SISTERS — >> DOMINICAN SISTERS OF PEACE. WE ARE A MINISTRY OF.
WE'RE A SEPARATE 501 C 3 AND THE SISTERS EXPECT NORTHEAST OHIO TO SUPPORT THIS LITTLE FARM IN DOING WHAT IT'S DOING. BUT THE SISTERS DID WHAT NOBODY ELSE COULD DO. THEY STARTED IT. >> EXACTLY. IS THIS WHOLE CONCEPT OF, BECAUSE I'VE SEEN YOUR MOTTOS. AND SOME OF YOUR SLOGANS. DON'T BUY FOOD FROM STRANGERS. YOU KNOW. IS THIS REALLY CATCHING ON? >> I THINK SO. YES. I MEAN WE SEE OUR CUSTOMER BASE GROWING EVERY YEAR.
WHEN WE STARTED IN 2004 WE AVERAGED 300 CUSTOMERS A WEEK. AND NOW WITH OUR TWO MARKETS A WEEK YOU KNOW OUR SATURDAY MARKET IS RIGHT AROUND 1100 OUR WEEKNIGHT MARKET IS AROUND 600 PEOPLE A WEEK. SO WE'RE GETTING CLOSE TO 2,000 PEOPLE EVERY WEEK. AND YOU KNOW, YES, IT'S DEFINITELY GROWING AND I LOVE ACTUALLY WHEN I SEE THE LITTLE KIDS WEARING THE T-SHIRTS THAT SAY DON'T BUY FOOD FROM STRANGERS. THAT'S SUCH A HOOT. >> WE HAVE ABOUT TWO MINUTES LEFT. SO BETH I WANT TO GIVE YOU AN OPPORTUNITY TO MAYBE TELL OUR VIEWERS SOME OF THE THINGS THAT ARE COMING UP IN MARCH AND APRIL AND MAY FOR COUNTRY SIDE CONSERVANCY. >> WE HAVE A LOT OF EXCITING THINGS GOING ON THIS YEAR.
YOU KNOW WE ALWAYS DO EDUCATIONAL CLASSES FOR FARMERS. WE HAVE A MONTHLY WEBINARS. WE CONDUCT A CLASS CALLED EXPLORING THE SMALL FARM DREAM. SO FOR PEOPLE WHO ARE REALLY CURIOUS ABOUT WHAT IT WOULD MEAN TO BECOME A FARMER CAN TAKE THAT CLASS AND FIGURE OUT IS THAT REALLY FOR ME? INTO ME SO WE ARE DOING THOSE AGAIN THIS YEAR. SO WE HAVE A LOCAL FOOD AKRON NETWORKING GROUP AND THAT JUST MET MONDAY NIGHT. THAT'S EVERY MONDAY. THE FIRST MONDAY OF THE MONTH. RIGHT HERE AT AKRON AND WE'RE ALSO DOING FOOD SWAPS AND A HANDFUL OF COMMUNITIES ACROSS THE COUNTRY STARTED DOING THIS. AND IF YOU LIKE TO BAKE OR YOU LIKE TO CAN OR YOU LIKE TO MAKE HOMEMADE MARSHMALLOWS OR WHATEVER YOU BRING YOUR PRODUCTS TO THIS SWAP AND YOU TRADE OTHER PEOPLE FOR THINGS THEY'VE MADE.
AND LAST TIME I BROUGHT A BUNCH OF PICKLED ONIONS AND I WENT HOME WITH MUSTARD AND SCONES AND SOMEBODY BROUGHT GUANCHALA. >> UNFORTUNATELY YOU'VE GOT 30 SECONDS. GIVE US AN INFOMERCIAL ON CROWN POINT. >> A FARMING EDUCATION CENTER. WE HAVE AN ECOLOGY DISCOVERY PROGRAM LAUNCHED THIS SPRING. WINTER AND SPRING. ONE THING WE'RE EXCITED ABOUT IN ADDITION TO SUMMER FARM SCIENCE CAMP AND YOU CAN SIGN UP FOR THAT ONLINE THAT'S JUNE THROUGH JULY FOR YOUTH DAY CAMP. BUT OUR EARTH'S FIRST MUSICIANS AND THAT'S GOING TO BE APRIL 7th.
WE'RE HOPING FOLKS WILL COME OUT AND LEARN ABOUT SONGS IN NATURE FROM BIRDS AND INSECTS AND HOW THAT APPLIES TO OUR WELL BEING. >> THANKS FOR JOINING US ON OUR WEBSITE WE WILL HAVE LINKS TO BOTH CROWN POINT AND COUNTRY SIDE CONSERVANCY. GOOD NIGHT. .